The Wizard of Oz Auditions
Please read all audition information carefully as parking, building entrance and protocols have changed due to COVID-19.
Auditions for The Wizard of Oz will be held at Random Lake High School in the high school choral room (see address, parking and entrance details below). Auditions will run Tuesday June, 1st and Wednesday, June 2nd. Ages 8-12 will audition from 6:30pm-7:30pm and ages 13+ will audition from 7:30pm-9pm. Children auditioning must be 8 years old or have had completed 2nd grade. Doors will open at 6:00pm. Call backs will be Thursday, June 3rd if needed.
Please bring a musical theater piece prepared (32 bars or so) in the style of the show. If you do not have a piece prepared, you will be asked to vocalize to see where your range is. Please do not prepare a song from The Wizard of Oz. Please also come prepared to dance at auditions with appropriate clothing and footwear.
COVID-19 Protocol
PLEASE NOTE THAT OUR MASK POLICY HAS CHANGED AS OF MAY 20, 2021. Masks are now optional. As previously stated in our COVID-19 and Illness Guidelines, if you have any symptoms of COVID-19, you are required to stay home until you no longer have symptoms. It is important that you please view our COVID-19 and Illness Guidelines below before attending auditions. Feel free to bring the form, signed, to auditions, as a signed COVID-19 and Illness Guideline form will be required to audition. There will be extra forms available at auditions.
Building Entrance and Parking Information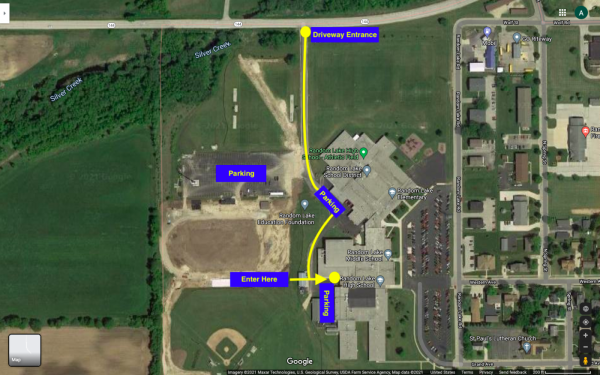 Due to COVID-19, you will need to enter the school in the back by the athletic field area. Enter the drive way off of Highway 144 by the RLHS Athletic Field sign. Follow the driveway all the way to the back of the school by the greenhouse/shop buildings. There will be signs and people directing you where to go. Please be advised that you may have to walk a distance to get to the entrance of the building due to some parking limitations. When you enter the building, a board member will take your name so we can monitor the flow of the audition process. From there, you will be guided to where you need to go for the audition process. Please see the map below for further details (click on the image for larger view).
Random Lake High School
605 Random Lake Rd.
Random Lake, WI 53075
If you have any questions regarding auditions please contact Lakeshore Productions at this email, lpi.board.rl@gmail.com or call Joe Horstmeier, LPI Board President, at 920-627-2358 or Roy Schwab, LPI Board Member, at 920-838-4125.