Shrek The Musical
2019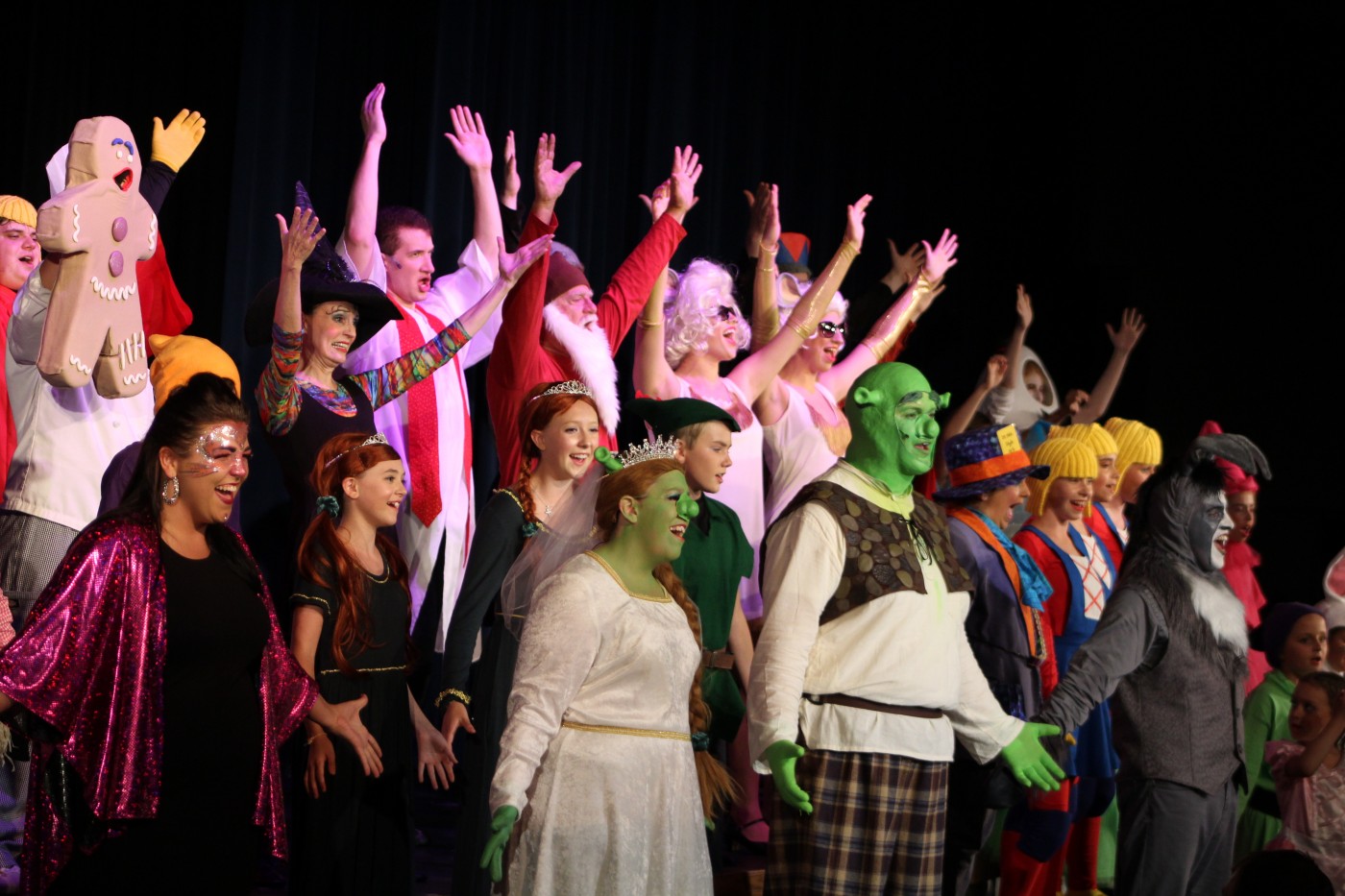 For the summer of 2019, Lakeshore Productions took theater goers to the swamp with Shrek the Musical. Shrek the Musical based on the DreamWorks Animation Motion Picture and the book by William Steig is a one-of-a-kind, sidesplitting fairy tale in which freak flags fly, donkeys and dragons find love, and princesses find that they are beautiful in all shapes and sizes. Shrek, an ogre in which everyone mocks and is fearful of, lives alone in his swamp. Suddenly, his home is invaded when a group of homeless fairy tale creatures, Pinocchio, the Gingerbread Man, the Three Little Pigs, and more, take over his swamp, seeking refuge from the vertically-challenged Lord Farquaad. In order to get his swamp back Shrek seeks out Farquaad, who offers him a deal. Shrek, must rescue the Princess Fiona (whom Farquaad wants to marry for her crown), then Farquaad will rid his swap of the fairy tale creatures. Shrek agrees and is thrown into an adventure with a talking donkey, a dragon, a princess, and many other characters. By the end of the tale, Shrek and the rest of his fairy tale friends realize that you should be proud to be who you are and you should never be afraid to let your freak flag fly!
Lakeshore Productions cast of fairy tale creatures was made up of 45+ members, with countless others behind the scenes that helped bring this show to life. LPI was thrilled to welcome back Leopold Shircel, a veteran of the organization, to play the role of Shrek. Tiffany Tillmann, coming back for her second summer with LPI, played the role of Princess Fiona. Donkey was excellently portrayed by Tom Kamenick who also returned for his second summer with Lakeshore Productions. Other fairy tale creatures included David Gremminger as Lord Farquaad, Sanora Stout as Dragon, Lexie Stout as Gingy, Corrine M. Schultz as Pinocchio, David Quinn as the Big Bad Wolf. Three Little Pigs included Lena Stange, Sariya Osterberg, and Claire Andreasen. Sharon Quinn portrayed the Wicked Witch and Sue Chambers Johnson brought glitter to the stage playing the Fairy Godmother.
Shrek the Musical was led by an LPI veteran making her directorial debut with the organization, Sara Stout. Alexia Birenbaum was stage manager/assistant director, and her husband Jacob Birenbaum helped her out as assistant stage manager. Music direction was a team effort from Nikki Anderson and Sarah Jensen, both LPI alums. Choreography was led by Rachel Brooks, while set construction was headed by Mike Schwab. Technical direction was headed by Alex Jentsch while the outstanding costume design was led by the amazing Sue Zagar. This show also would not have been possible without the help of the countless volunteers that give their time, talent and energy to Lakeshore Productions.